ABOUT
US.
We've set out to simplify premium media trading through technology and collaboration.
Adslot is a publicly listed company on the Australian Stock Exchange (ASX:ADS). With offices in New York, London, Shanghai, Munich, Sydney and Melbourne, we service market-leading Brands, Agencies, and Publishers all over the world.
Adslot Media.
Adslot Media is an independent Programmatic Guaranteed technology that scales publisher-direct media buying through a direct connection with publisher ad servers. With its proprietary Audience First feature, buyers can plan and buy premium products with their first-party data, across publishers.
Symphony.
Symphony is the world's leading buying and planning workflow platform for media agencies. Employed by the largest holding companies on the planet, Symphony manages every step of the media buying life cycle.
Together, Adslot and Symphony provide end to end media planning, buying, and selling management for the advertising industry.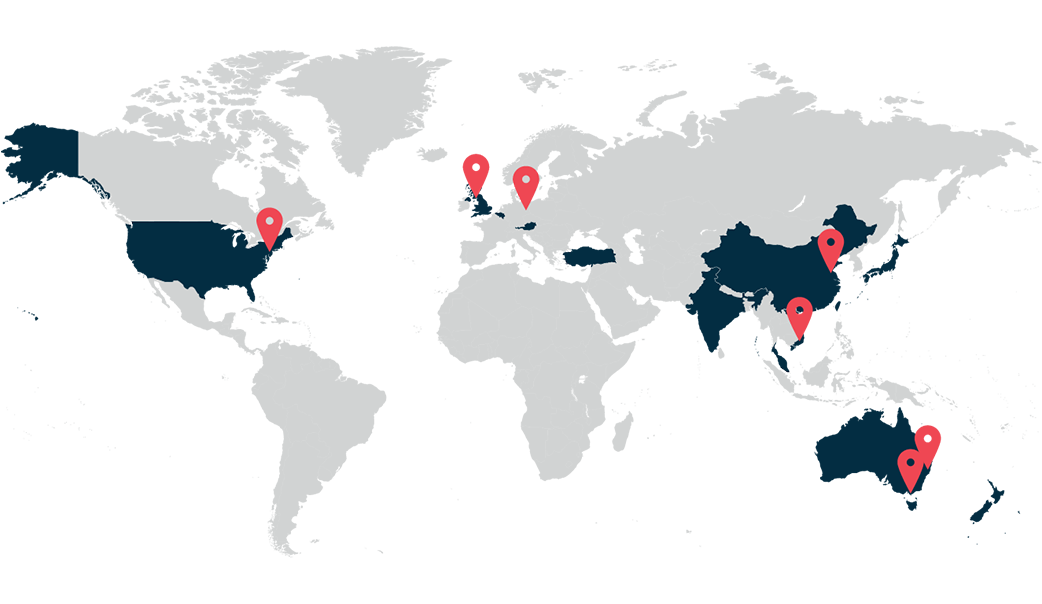 Melbourne
Level 2, 419 Collins St
Melbourne Vic 3000
Australia

New York
79 Madison Avenue
New York, NY 10016
United States of America
United Kingdom
Three Tuns House
109 Borough High Street
London, SE1 1NL

Sydney
Level 7, 10-14 Waterloo Street
Surry Hills NSW 2010
PO Box 1721 Darlinghurst NSW 1300
Australia

Germany
Facilitate Digital Deutschland GmbH
Poststr. 33
20354 Hamburg
Germany

Shanghai
1-231, Shanghai 1933
No 10 Shajing Road
Shanghai. 200080
China

Ben Dixon

Co-Founder and CEO

Mr Ben Dixon joined Adslot in December 2013 as an Executive Director on the implementation of the merger between Adslot and Facilitate Digital Holdings Limited.  Ben's career in the advertising industry goes back over 19 years and includes roles at several large multinational agency groups including DDB and Mojo.  He has wide experience across both the media buying and account management fields and in particular he conceptualised and then co-founded Facilitate Digital Holdings Ltd.

Tom Triscari

Head of Corporate Development and Interim Chief Financial Officer

Tom Triscari is a leading expert in the programmatic adtech industry. He is the founder and CEO of Lemonade Projects, a programmatic innovation agency based in NYC running strategic projects and experiments at the intersection of economics, game theory, and principles of radical transparency. The underlying thesis of Tom's work is based on his methodology paper Programmatic Lemon Market Game published in May 2020.

Mr Triscari's programmatic experience began in 2007 developing addressable TV and data product requirements as a consultant for Project Canoe in New York, an initiative led by Comcast and Time Warner. He managed a multi-market team at Yahoo! Europe in Barcelona with responsibility for Right Media, the first programmatic exchange. At pre-IPO, Criteo in London, Tom built and managed supply-side and data science teams.

With the budding in-house market starting to take root, he was brought on as CEO to reposition Amsterdam-based Yieldr, a DSP platform.  In 2015, Tom founded Labmatik, a programmatic transformation consultancy.

Mr Triscari has a B.A. in Economics from UCLA, an MBA from the University of Notre Dame, and hosts Quo Vadis — a leading industry newsletter.

Cary Dunst

EVP Business Development & Strategy – North America

Cary joined Adslot in the spring of 2017. He has been in the tech sector for nearly 20 years – the last 10 devoted to ad tech, data, and analytics solutions. As General Manager, he is responsible for developing and driving Adslot's business strategy across the North American market. Before joining Adslot he was the VP of Sales for North America with Lotame Solutions. Prior to Lotame, Dunst thrived in four long-term successful sales roles, most recently at Marin Software and Hitwise.

Charmagne Jacobs

EVP of Marketing and Client Strategy

Charmagne Jacobs serves as EVP of Marketing and Client Strategy for Adslot. As a member of the executive team she oversees Global Marketing, NA Client Success and Publisher Partnerships. A seasoned advertising veteran, Charmagne has held leadership roles across Entertainment, MarTech, and AdTech. Prior to joining Adslot, Charmagne led brand marketing for Experian Marketing Services focusing on Content, Lead-Gen, Communications, and Social Strategy.

Robyn Parker

Chief Information Officer

Robyn is responsible for technology service delivery for all applications both built and used by Adslot. With over 20 years in the IT sector, Robyn has accumulated a broad range of technical experience in both online and offline environments. Prior to Adslot, Robyn held the role of Chief Information Officer at Facilitate Digital. He has also held the positions of CTO for Traffion Technologies and Director of Operations for RedSheriff.

Tom Peacock

Chief Commercial Officer

Tom is a highly experienced media industry executive with over 20 years experience across a variety of international sales, product, and strategic roles. As Chief Commercial Officer, Tom is responsible for Sales, Client Services, and Operations for both the APAC, and EMEA regions. Tom joined Adslot when Facilitate Digital was acquired by Adslot in 2013, having originally joined FD as Chief Product Officer in 2006 before becoming Chief Operating Officer in 2008. Prior to moving to Australia in 2005, Tom worked in his native UK where he started his career in media strategy before moving into digital in 2000 with Outrider (now MEC Interaction), one of the world's leading digital marketing agencies, where he was appointed to develop a consistent brand proposition across all markets within Western Europe. He later became Managing Director for their UK business.

Rob Jones

Chief Technology Officer

Rob is responsible for technology strategy and heads up the software engineering teams, developing the Symphony and Adslot platforms.  Rob's super passionate about building great teams who love innovating our products and pioneering change in the industry.   Rob is a seasoned leader in software engineering and tech strategy, with 20 years of experience working in the UK, US, Europe, and Asia Pacific.   Prior to Adslot Rob was Head of Engineering for Class Ltd.  He has also held senior IT roles at Fuji Xerox, Flexi Group, SAS, and was Head of IT Strategy for ING Direct.

Fernando Tinoco

Chief Product Officer

Fernando leads the product teams at Adslot. With more than 20 years of experience in digital tech, Fernando is responsible for a customer-centric product strategy that delivers on the Adslot purpose of advancing how advertisers, agencies and publishers collaborate to trade premium media. Fernando joined Adslot in 2017, after spending over a decade in Journalism and product management stints in digital native companies such as SEEK and SitePoint.

Ryan Canty

General Manager – UK

As General Manager for the UK, Ryan is responsible for buy side and sell side relationships. Ryan has experience is sales, sales management and strategy as well as extensive knowledge of publisher ad-servers and DMP's across all buying disciplines. Ryan has been with the business since 2015, his previous role was Head of National Digital at a UK publisher and has built up 14 year career in Media, collaborating with advertisers and agencies.